"We can not do great things. We can do small things with great love!"
Mother Theresa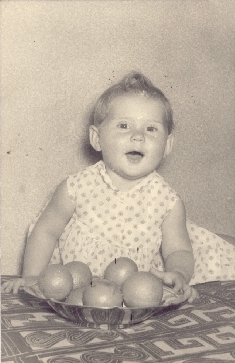 Me in 1956
My life started at July 6, 1955 in Zaandam at 11.10 PM. Daughter of Geert en Wil, extremely proud parents!!! My father announced me as Her Majesty the Queen.........
I was a happy toddler, loved to sing (I couldn't and still can't but even though), especially at the back of a bicycle, refering to the look of people passing by, and spent many days together with my mother, at my mother's parents who also lived in Zaandam. Dad's mother lived North East and we often visited her by car. A long journey those days......
We moved when I was 3, moved again when my mother was pregnant and just one week before my 4th birthday, my little brother Herman was born. This one week has been a regularly frustration to him when growing up as he found it very hard to understand that celebrating his birthday before mine, he wasn't older but so much younger. Now, at the age of 44, I think he understands.... It was just the two of us, no other brothers and sisters arrived.
We grew up in a Christian environment, biblical, not church-like, Mum and Dad never felt at home anywhere. Because it was not a belief by the rules of any Church, we went out with the car on Sunday's, swam, ice skated etc. Many church people shook their head about our bad upbringing with no respect for the Day of the Lord. It did not harm us as non of us ever lost the faith in God.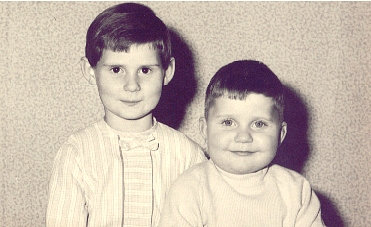 With brother Herman, 1962
We had a happy childhood, Mum was very loving but strict (Dad was strict too though) when we tried to explore our mental borders. Dad always said a family also needs traffic rules. Sometimes the traffic light needs to be red to avoid accidents. Dad was often out to work but Mum was always there for us, ready for a hug, a chat or answering the odd questions. Mum had one sister who moved to Canada when I was 3 and who adopted a boy and a girl many years later. I am more in touch with them then with the 10 cousins from Mum's side in Holland. Mum's eldest sister has 4 sons and 2 daughters. Ofcourse we meet once in a while, they are all great fun and gifted with the same sense of humour. Mum's brother (he passed away 20 years ago) has 5 daughters, all very nice cousins and a lot younger, we are not often in touch. Dad has one brother who provided me with 2 male cousins, we do get along very well. Dad's sister has 1 son we never see or hear of and 1 daughter who lives in Australia, she is a very cheerful person. I visited her and her 4 children in 2000, we had a great time.
Dad often applied for jobs so we moved quite frequently. Apart from the very South, we lived almost everywhere in Holland. I can't remember it being traumatic, going to different schools all the time. I never was part of a large group of friends (always have been somewhat a happy loner) which made it easier I guess. Brother found it more difficult but married a woman who moves almost every 3 years. Well brother was used to it anyway............ Brother and his wife got 4 children, 2 daughters and 2 sons so I am a real Aunt.
We lived for quite a long period (11 years) in a village near Apeldoorn in a wonderful house with a central front door, rooms at both sides and a large garden with former stables and room for a wagon (we did not have one ofcourse but used the space for parties). Those 11 years were great. I finished high chool, found nice jobs and got my "Spare Time Miller's degree".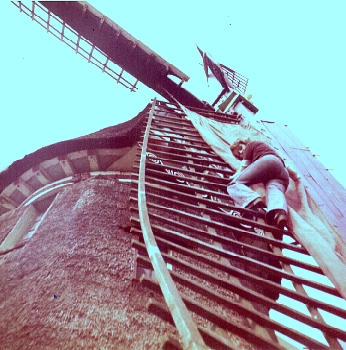 The Mill in Voorst, 1971
I was 16 when Dad got ill, kidney failure, during his first months in a new job. I do not have to explain that finances got worse. Mum got Breast Cancer not long after which I remember as a very sad time. Mum in hospital for some weeks, not knowing ofcourse what would happen next. Strong as she (still) is, she survived and the Cancer never returned!
Our village was a nice one with nice people and it did not take long before all sorts of people were flooding the house again: young and old. Just like we were used to every where we lived. Mum and Dad seemed to attract the odd people. Their slogan was: "Everybody is welcome and those who do not fit in, will disappear by them selves again". We had a lot of fun despite Dad's illness and being in and out of hospital so very often. (Dad passed away in 1995 at the age of 67 after he made the choice for active eutanaesia.)
When I was 18, the first foster child entered the house at the age of 19, his name was Wim. He was a son of one of Dad's old School friends and neighbour from his childhood in Dutch Indonesia, Wim was addicted to drugs. He was caught in action by the police and had to go to jail. Until then he stayed with us, thinking he could mislead my parents. But soon he got to know how strict they were, keeping him to his promise: "I want to be clean again and do everything possible to be so". The judge saw Wim again when he looked much healthier and gave him the choice between going to jail or staying with us for at least two years. Wim stayed. Mum and Dad did not have any experience with addicts but knew a group of people in Amsterdam who looked after hard - drugs addicts, and they were a wonderful back up. Wim too was on hard drugs and the "cold Turkey" method was harsh, very harsh, but a very good way to get clean. He was a nice boy, lots of fun too, especially after he felt better and better. He stayed with us for 5 years and unfortunately had a huge fall back when he went to college. Even now he is still on drugs and his life is a terrible mess. He never returned to us nor wanted to. A year after Wim arrived, I "found" a girl near the bus stop. She was from the same village, now living with a group of addicts in a nearby town, but she heard of Wim and asked me lots and lots of questions. I invited her to our home the following evening. She arrived, an extremely skinny, pale, frightened girl of 19, called Beppie. Mum hugged her and answered together with Wim, all her questions. Then Beppie started to cry and told Mum: "You can adopt me too if you want. I want to be clean too!" Though first ofcourse, her parents had to agree as well because for one year, she was not allowed to go anywhere nor being in touch with relatives and friends. Just living with us by the family rules. They agreed and within a day or two Beppie became our new family member. She had a very hard time but with enough backbone, she healed and is clean ever since, now a very proud mother of two. We are still in touch with her, still my foster sister. Due to an anonymous article in a news paper about our family, Ineke arrived. She was in a very, very bad state. The heroine needles caused lots of infections, she was skinny, chaotic and getting clean was a terrible struggle. She often was attacked by "demons" as we called them. Invisible snakes were creeping out of her belly button, she held them tight, her fingers flat and white from squeezing where we couldn't see anything. But after some months she all of a sudden got very hungry, as well for food as for health. She was a lady with a mind of her own, a fighter and although we are not in touch with her anymore, we know she stayed clean after she left us. Beppie and Ineke both stayed for two years. Looking back, I really admire the faith of my parents because with such young children, we easily could have gone the wrong direction. I think, seeing these people suffer, protected us from using any sort of drug. I am still very, very thankful for that part of my childhood!!!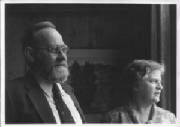 Mum and Dad Roelfsema, 1982
I lived with my parents until the age of 26 when they moved to the North after my brother got married to Ruth, leaving the house at the age of 21. I rented a room at the Estate of Mum's sister for 6 months. Then the office I worked for, split up and I moved to the Polder where I fell in love with the man I have been married to for 17 years.
* * * * * * * * * * * * * * * * * * * * * * * * * * * * * * * * * * * * * * * * * * * * *
My foster parents:
At the age of 17, earning my first money as a dentist assistant, being a bit stubborn and not always easy to handle, I decided to go on holiday on my own. And I mean on my own, not at all a common thing to do for a young girl those days. I was certain that Dad would say NO! and almost looked forward to a little "fight". I was going to show them I was an adult now. When I introduced the plan, Dad said: "Well Ike, that is wonderful!!! Where are you going to??" Gosh, flabbergasted I told him I did not know and repeated I was going on my own, just me!!!! "Yes, I understand, that is nice Ike, but where are you going to???"
I did not know, honestly, I thought I wasn't allowed!!! The boss his wife once lived in Chester (GB) for 10 years and told me it was beautiful plus England was still a safe place to go for a 17 year old. I told a friend about it and she knew a couple running the Bible Conference Center "Mount Avalon" (at that time may faith in the Lord was extremely low) in Glastonbury-Somerset. She said it was relatively cheap and I did not have to join the conferences. But it was a safe place to stay in a beautiful part of England and my parents could contact me when something wrong with them. I thought this was fair as they allowed me to go on my own. I wrote the couple a letter in very bad English, talked to them on the phone and off I went in May 1973, a frightened girl (but did not want to tell my parents ofcourse.......) with a huge yellow suitcase, dropped off at the station of Apeldoorn instead of the Ferry at Hoek van Holland, because Dad said: "Here starts your holiday". Never been abroad before, it was very exciting, I did not know what to expect. When I passed Customs, an older man looked at my brand new passport, glared at me and asked: "Do your parents know you are here?" Oh yes, they do!!! He nodded and let me pass. The Ferry was huge and comfortable and I enjoyed walking around but did not dare to talk to people!! I had a good night in a comfortable cabin and the next morning I arrived in England. Nice weather, busy traffic in the grey and dusty town of Harwich. I truly hoped Glastonbury was nicer. I went by buss to the center of Harwich, got my train to London, a cab to the other end of London where we passed a Hotel where the first bombing just took place. It was frightening, it left a very deep impression and I was ever so happy I was safe. Then my train to Bath, what a beautiful town! I visited it often afterwards. From Bath by buss to Wells (even more beautiful, I left millions of footsteps there) and from Wells by buss to Glastonbury..... at least, that is what I thought I was doing!
Mrs. and Mrs. Coulby of "Mount Avalon" wrote me to go to Glastonbury and when at Town Hall with a red telephone box in front, I had to go off the buss and they would be waiting for me. You will understand that I looked very carefully for the signs "Glastonbury" and after a while I noticed some but did not look for the sign posted mileages! Now I had to look for a Pub with a red telephone box in front. A Pub?????????? Yes, I thought Town Hall had to be a Pub, I heard Pubs had the odd names! You can imagine my happiness when I saw a Pub with a red telephone box and somewhere in the back of my mind was this sign Glastonbury too. I hopped off and waited.......... waited............ waited.......... half an hour, an hour, two hours........... In the meantime I noticed this old Morris Minor passing by with seated in the front two fair headed ladies, dressed in woolen twin sets and tweed skirts. Every time they passed by, they looked at me. The fourth time though, they stopped, asking me why I was there all the time. I told them and they laughed and laughed, telling me Glastonbury was another twenty Miles!! I still think a lot about those ladies as they were so kind to take me to Glastonbury where they hugged me when they dropped me off at Town Hall.
In the meantime Mr. and Mrs. Coulby traveled up and down "Mount Avalon" and Town Hall, very, very worried as the Dutch young girl with her suitcase was missing. A Dutch couple lived at the other end of the village and happened to know my parents. Lots of meetings about "shall we call the parents, do we worry them without a reason?" took place but all decided to wait for some more hours. Finally they noticed an old Morris Minor, dropping off a young girl with, indeed, a yellow suitcase.............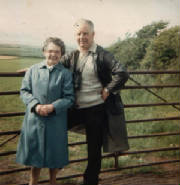 Mum and Dad Coulby 1987
The lost daughter, that is how they hugged me although we never met before. And this is where a long and loving relationship started. It felt immediately like home. I soon called them Mum and Dad and they called me their Dutch daughter. David, Mum's eldest son, called me later on the "Non Official Adopted Foster daughter" or NOAF-sister. In 1979, Mum and Dad moved back to Yorkshire where they originally come from. Of course I followed during my holidays in fell in love with this beautiful county. Love at first sight: the countryside, the people, their wicked sense of humour and of course the sheep! I do feel at home and always leave in tears, part of my heart stays in Yorkshire. I spent so many happy days with Mum and Dad and it was a big shock to find out Dad had Cancer. I received the news on my birthday in July 1993. August 1993 I returned for Dad's funeral. I still miss him. Mum is still going strong at the age of 88, a bit forgetful but she is allowed. I hope I can go and see her this year, we do speak on the phone regularly but a hug in real is so much better.
* * * * * * * * * * * * * * * * * * * * * * * * * * * * * * * * * * * * * * * * * * * * * * * * * * * * * * * * * *
Me leaving the house to move to Kampen
June 1981, my little brother Herman married the love of his life and Mum and Dad put the house up for sale. I found a job opposite the street but when the house was sold with Mum and Dad moving to the North of Holland, I moved to Mums sister in a nearby village where I rented part of the old barn which now belonged to the big Estate.
I had two very small rooms which I could just afford with my part time job and had a marvelous time. Aunt Nel looked after me very well and decorated the rooms often with lots of flower arrangements. She cooked tasty soups and always left me some.
Then, early 1982, the company I worked for, split up and I got transferred (my own free will) to one of the Companies in Kampen. That is where I met the man I fell in love with. I loved him deeply and within months I moved in with him. We got married in September 1982 and both lost our jobs not long after. Ronald already sold and fitted Awnings, Sunscreens, Blinds and Window Fashions to support his hobbies: Volvo's and his BMW motorbike. The year of the redundancy was a strange one as the Company did not get permission but we had to stay at home, fully paid. During this year we started our own business, first from home but in 1985 we bought an office building at an Industrial Estate. We transformed it into a showroom, an office, workshop and a living area with a bathroom, bedroom and guestrooms.
We both worked hard to make it a real company. We struggled a lot but also booked successes. I liked selling our products but was not a star at the office. I never have been and this we talked over and over before we started the company. Soon it became difficult to do the housekeeping and the company together and we employed a young girl for the housekeeping. Straight from school, she also was very good in office work and slowly she took over which was only good for the company. I stayed active in the showroom until 1996 when I went back to College for my Paraveterinary Degree. I already worked part-time during the evenings, for a Small Animal Vet which added some money to the household. But I wanted my degree to find a proper job, financially the company was struggling a bit and due to the new EG rules for Veterinary Practices , I needed my degree.The study took 2,5 years and I finished in 1999 with lots of B's.
In 1995 we bought a small holiday cottage in Sweden, from friends. Very cheap and a lot needed to be done. When it was suitable for living, in 1998 Ronald suggested to go there for a longer period. Starting off with three weeks together and then leaving me there to maintain the houses, garden and forest, leaving us real holidays together instead of working at the property both. I could do my study in Sweden by post, so we gave it a try. Ronald returned every third week and we spent much more time together then being in Holland together.
I loved it in that part of Sweden, living in the middle of no-where was very enjoyable. Both our dogs, the Kuvaszok Älg and Invandra, stayed with me. I could always visit friends when lonely but I never felt lonely apart from being separated from Ronald. Älg was an old dog with a huge heart problem but Sweden did her a lot of good. Unfortunately she died within 24 hours after our arrival in Holland in November. The year after we returned to Sweden with just Vandra. It was a memorable year as some things were not right. Ronald said it were problems with the company he could solve although I thought it was me and not the company. But he denied it. I soon found out the truth. In August 1999, he told me on the phone that there came an end to our marriage, he and our secretary were in love for already many years, she had moved in with him already so I could not return home.The news shocked me and I felt like being in a roller coaster, not able to get off. After a week I found myself fit enough to return to Holland and went to stay with my Mother. Soon I could rent a small detatched house in the same village and I made it my own safe base.
The following year was a very difficult one. No financial support and lots of new emotions where Ronald finally felt relieved.
* * * * * * * * * * * * * * * * * * * * * * * * * * * * * * * * * * * * * * * * * * * * * * * * * * * * * * * * * * *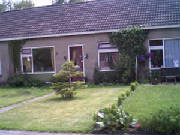 My "cottage"
1999 - ..................
A different way of life, a new future...........
I arrived at Mum's with a full packed car. My friends in Sweden gave me so many things to start my new household with, even two tables which were in the back of my old Volvo 245. The dog Invandra on top of the tables.
Whilst living with Mum, I went to see a little house in the village. It used to be a house for elderly people but not up to the modern standards anymore and now rented out to "younger" people. The state it was in was terrible. Very dirty, filthy, smelly and not looked after at all. To me though it was heaven, I looked right through the mess. The building corporation was kind enough to whiten the ceiling and the kitchen and to remove the old wall paper which was hanging down from the walls. They also looked after the garden as the weed was at least 2 meters high! The view from the small backyard was beautiful!!! Fields, trees and a canal. No neighbours at the back. Coming from the middle of no-where, this was the right place to start a new life, lots of space to feel at home. It took me 14 days of 14 hours per day, to clean and redecorate the house. My dear friends Loes and Arnold came all the way from near the German border to help out for two days. Loes did the sand papering of all 7 doors (mind you, 7 doors, all different colours, even on both sides!!!) Arnold and I have been painting every single piece of door- and window frame. We never did wall papering before but we managed very well!
The first day in my little house, I found two little kittens. One high up in a tree (now called Bark, Swedish and English for bark) and one hidden under a parked car, now called Antagen (Swedish for adopted). Bark is female and Antagen male. They were appr. 5 weeks old, very skinny and very sick. My old cats died recently and I did not want to have others again. But ofcourse, being a Paravet, I adopted them and when I finally moved in the house and they met the dog behaving like little devils at first, everybody became friends and lived happily after.
In February 2000 I went to Australia, financial supported by cousins there who thought it would do me lots of good. And it did! It was a lovely holiday. Australia is beautiful and I met cousins I never met before. But all so familiar, within minutes it was like we knew each other a life time!! One day I hope to return, but during their Winter as I did not like the heat!!!!
me in 2000
With no financial support and lots of actions from ex to make my life very difficult, I was determined to show the world I could manage on my own. Ofcourse I did not want to go to Social Service and had the odd jobs. From bulb peeling to being a chauffeur for an English company based in Holland. That first year, someone offered me a company. It was for sale because after they had a baby, there wasn't enough time to keep it going. With the help of one of my part time bosses, I made a business plan. It took me 5 months and with money from the bank, I bought this HostessTeam (a better name is a PromotionTeam). With it came 19 uniforms and a client file. Unfortunately I had to find out that all the clients left the company before I bought it. A very nasty surprise. I tried to create a new client file although there wasn't enough money to do so.
I also got very, very tired. Not at all a surprise, the doctor said. "A divorce, 3 part time jobs, a company which needs lots of attention." I managed to do some jobs for my little company and in 2001 I organized a trip to Sweden for the Dutch Volvo 480ES Owners Club. (My old Volvo 245 "died" two years before and I bought a 480ES in return and became a member of the Club). First I went to Sweden with Loes, together with Invandra. Loes and Arnold own a cottage not far from my old one. I was too tired to really enjoy the long walks but loved every minute I spent there. Loes is a very dear friend and she looked after me so very well. E.G. she took me to a concert of Gunnel Mauritzson who's music is here on my site.
After a week I joined the club members in the village "Hjo" from where we did a trip around a lake before we went home again. We had a great time, the weather was at its best and the members got on very well. Lovely hotels, beautiful surroundings. The day we went home, I felt very sick and when finally back home, I had a very bad fever. That very same evening foster brother David phoned and could tell by the sound of my voice, I wasn't well. He offered me a trip to the UK, to his cottage. He was going to the Isle of Man for the TT so I could have a good sleep in the meantime. Departure was 5 days later. I was so happy with his offer, I was so very, very tired. Mum was happy to have the dog and friends walked Invandra and looked after the cats. In the meantime I went to see my GP for a bloodtest.
In Davids cottage, I slept and slept and slept. 5 long days, 20 hours per day. Then a friend came to see me and we walked a lot. I started to feel less tired and my temperature went down. Dear David, he knew what I needed.
When home again, the doctor told me the blood test results: a badly neglected Glandular Feever. "You calm down now for at least 6 months" he said. Oh. Yes...... right...... who is going to run my company?? So on I went with two part time jobs beside it. April 2002 I got ill, a bad Bronchitis and from then on, I found it very difficult to struggle on with the company. August 2002 I finally had to close it down. Finances got more then worse and I had to give up. Mum and I went to the Bank and with a second mortgage, Mum bought my debts at the Bank. It was much cheaper this way, now I only had to pay back the rental amount. Then I went to Social Service. I hated it but what else could I do???? I still had one part time job but this wsa just 2 days a week.
I looked for jobs but not at all successful. In October 2002, after a visit to Yorkshire with David, my hips were very painful. I blamed walking the hills but a visit to the hospital for X-rays, showed something completely different. Both hips were wear and tear and I needed an operation within a year, maybe even months, at the right side. Gosh.... I told my part time boss who decided an hour later, I had to finish the job that same afternoon and wasn't expected to return. Not even a goodbye after almost three years.
In December 2002, after a visit to the Dermatologist, I got diagnosed with Vulva Skin Cancer, also called VIN3 (Vulval Intra-epthelial Neoplasia in all 3 layers of the Skin). A very rare form of Skin Cancer, often seen in women who smoke or in women whith a Virus. But I never smoked and I do not have the Virus!!! The only explanation was me not being in a good condition. I went to the Hospital in Groningen. They and the Hospital in Amsterdam are the only ones who look after women with VIN. The did a new test in February and to the surprise of all, it was now VIN1 (1 layer of the skin). Almost impossible without treatments like an operation or lasers. But here I was, my body healed itself!! That meant that I had to be extremely healthy!!! I was so happy! Still are though!
So in January, I informed Social Service and asked for a "Time Out" for job applies. They were very kind and told me to have a rest first. In March, still not successful in finding a job, Social Service offered me a job skill test which lasted two moths. I agreed, nearly desperate. The job skill test was good and I learned a lot about myself. In the middle of this test, my friend Jelma, the owner of a PromotionTeam, asked me to do a telephone job for a company in Grou, a Permanent Watersports Exhibition. They needed someone who was going to phone other companies, to take part in an exhibition. It was just for one day. I was asked again for the next day, the day after , the week after and, within 2 weeks they offered me a job!!! I couldn't believe it, I was so extremely happy. But then ofcourse I had to tell them about the skin Cancer and my hips. They did not mind and at first offered me a part time job until the first hip replacement. Then it would be a full time job. I phoned the Surgeon, explained it to him and 3 weeks later I was in Hospital for the new hip.........................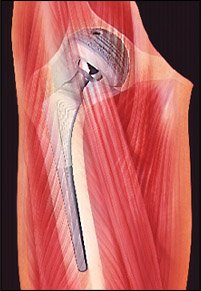 Just one day after my birthday (Sunday the 6th of July) was the day before the operation. As you might know, a hip is made from Titanium, a very expensive metal. The could not have been coming up with a more expensive birthday present than this!!!! I did get local anaesthetics, a spinal. Therefore I could ask many questions. I was allowed to and I did! So many that at one time the anaesthesiologist asked me to shut up so he could do some writing……….. so sorry doctor! I lost a lot of blood during the operation and my blood pressure and heartbeat dropped which made me stay in the recovery room a bit longer then usual. Though the operation went fine, it was a lot of hammering and sawing. I aksed the surgeon if he did these operations on a day he was frustrated about annoying patients. He laughed and replied: "Indeed, you understand I always look forward to these operations!!!"
My legs felt like the size and the weight of elephant legs but within half an hour after I returned to the recovery room, the feeling went. I had to tell the nurse and so I did, he then gave me morfine which I didn't want but he said I could not do without it because of the pain. Well, it made me at least very sleepy.
I returned to the ward at 1 PM, 4 hours after they started the operation, a bit pale and sleepy due to the blood loss. I was going to get some bags with blood but this was not until 2 PM. In the meantime an old friend of my father, Jeppe Mellema, a doctor himself, came to visit me, all the way from Groningen! I tried to concentrate on his visit. Afterwards he told me he thought I had the operation a day before and he did not notice I was so sleepy. I enjoyed our little chat so much but was also glad to go to sleep after he left. I refused most painkillers which annoyed the nurses a bit, I was called stubborn. But I am not used to painkillers, not at ll and I now got an amount to operate an elephant without anaesthetics!!!!!!! During the first night I asked for a morfine injection, not because of the pain in my hip but for the pain in a lower part of my leg, oohhhhhhhhhhh…… my poor muscles were overstretched when they lifted my leg to click it in the joint.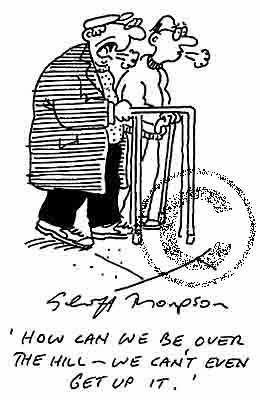 "How can we be over the hill........ we can't even get up it!!"
But from then on it went all so much better, out of bed the next day to do my first steps behind the zimmer frame.The Physiotherapist came to see me regularly and I walked with crutches on day two, even walked the stairs!!! I was allowed to go home on Saturday but they could not arrange a nurse to help me with the elastic stocking which was needed to avoid a swolen leg. So off I went on Monday, collected by Yteke.
Home, I first said hello to my animals, arranged the enormous amount of flowers and cards I received, made a cup of tea and then went to see Mum and my dog Invandra. Not to say both were extremely happy to see me!!!
One week after the op. I walked with one crutch, two weeks after the op, without any (walking like a well fed Christmas Turkey) and three weeks after I walked 3 km. per day. This was when I stayed with Paul and Anneke (the Vet who trained me, and his wife, wonderful friends with a great sense of humour!). They collected me all the way from Voorst near Arnhem and spoilt me to death during my stay. I had a wonderful time, together with Invandra who was welcome too. I never wanted help to do the housekeeping, why should I? I had time on my side, no hurries……..
4 Weeks after the operation, I returned to work, part time because I could not sit a whole day long. But the week after I returned full time and also went to see the Surgeon…………….. on high heels (no, not the Surgeon, but me!!). He laughed and laughed and was ever so happy to see me doing so well. He told me I was allowed to drive my car again, whoopy!!
The hip replacement is one of the best things that ever happened to me. No pain, as moveable as I should be and half an inch taller……….. I am so much looking forward to the next replacement which was going to be in March 2004. But, as you can read in my News Letters, the Breast Cancer came in between. But right now (12-11-2004), after the treatment of the Cancer, we set the hip operation for January 2005. I keep you informed!!!
This page will always be under construction..............