21-02-2004
Dear Family and Friends,
Yes, here she is again although I have not always been a loyal friend and writer to some of you!
Loads of excuses ofcourse, like a wonderful, terrific but busy job with sometimes long hours. Or a stupid computer which has been out of order for a very long time, even months.
What ever, I am back again.
My life changed completely after the first hip replacement.
A full time (and sometimes more) job with a wonderful company with great colleagues.
A very healthy new hip which made my life so much better!
A second hip replacement planned for the 30th of March.
Unfortunately something came in between.
Last Tuesday, after several visits to the hospital, I was told I have breast cancer. And severe too. This type of Cancer is called Ductal Carcinoma and spread itself as a huge cob web through the left breast. When it started to form noodles, I felt it for the first time. It can only been seen on an MRI scan and fortunately they booked one straight away.
The whole breast, all the glands and nodes will be removed (lateral radical mastectomy) and a test on the glands will show if it spread itself or not.
If so, Chemo therapy follows, if not, it will be radiation.
A Ductal Carcinoma can grow for 7 years before it is noticed.
A very weird idea to walk around with it for already so long and a very good excuse to get rid of it as soon as possible!!
The operation will be next Thursday the 26th of February in my favourite hospital called Nij Smellinghe in Drachten - Friesland.
I was sorry to hear the news and feel even more sorry to tell you.
I feel very much at ease, I can't change it and a sad face isn't of any help at all.
I am surrounded by lots of wonderful people who offered so much help and who look after my Mother who is ofcourse, very sad about it.
I am ok, young, healthy and optimistic and apart from what is going to happen, having a stabile life, a stabile income and a job waiting for me.
Also my colleagues make sure I can leave them and the company with a heart at ease.
What a positive change comparing to a year ago!
So, I say goodbye for a while, hoping you are all very well.
xxx
06-03-2004
Dear Family and Friends,
Yes, indeed, I am back from the Hospital after breaking another record (again).
The operation went well on Thursday. I did not need painkillers and was doing my crosswords half an hour after I arrived at my room. I can move my arm much better then I should do which is another bonus.
Was up and running the next day again and getting bored on Saturday.
Fortunately they could remove one drain so I was allowed to go home on Sunday. Great!
Drove my car again on Wednesday so I could see the Surgeon on Thursday on my own.
He was ever so surprised about my recovery, the wound is healing quickly and they removed 15 of the 30 stitches.
I still loose a lot of fluid so have to change the Redon (container) frequently but it is improving.
Though it is not al good news unfortunately. They removed 15 glands (all they could find) and some of them are infected with cancer.
Next Monday I am going to see the Oncologist for the final report and on Tuesday they will scan everything possible (bones, lungs etc) because now it could have spread anywhere in my body. Very weird when you think about it because I feel extremely well. Even going back to work next week.
Chemo Therapy will start very soon but I will hear more about it next week. At first it will be 4 months and from there 2 months Radiation.
I think this is the first time in my life I have plans for over a longer period then 24 hours!!!!
The Surgeon said I am mentally and physically extremely healthy and strong which helps tremendously by what is coming up soon.
Ofcourse still very optimistic, loads of energy to win this fight!
Have won more wars though!
I hope you are all fine and doing well, you are in my thoughts.
xxx
17-03-2005
Dear Family and Friends,
Finally good news!!!
Last Monday I went back to my favourite "Pub" the hospital, for the usual check up's, the draining of lymph fluid (Serome) gathered in the arm pit (due to the removed glands) and the results of all the Scan's, X-ray's and Echo's of my body because they found Cancer in 9 of the 15 glands.
Also to the surprise of my Doctor's, there are no other tumours!!!
I think you can imagine a little bit how extremely happy I was and still am ofcourse. I could dance though!! Wow Whoopee!!!!!!!!!!
What a huge relief, can not put this into words.
Ofcourse there was already the good news about the wonderful healing of the wound and the remarkable movability of my arm.
But next we had "business" to do as ofcourse there still is the Chemo en Radiation ahead of me.
The Oncologist examined me and I got certificated "Extremely Healthy". After that the bloodtests and the Heart check.
In between those tests, I went to see the Oncology Nurse who again removed 1,5 dl of lymph fluid.
This will go on for some other weeks until the little lymph canals will find a new way round over my shoulder. How ingenious........
Last but not least a visit to another Oncology Nurse for a talk about the Good's and Bad's of Chemo therapy.
The Bad's are ofcourse the side effects of the Chemo. The Good is e.g. me getting bald but getting back much nicer and even curly hair!!!!! And ofcourse slimming for free!!
The most wonderful Good is ofcourse me getting rid of the Cancer for ever, hoping it will never return!
Next week Friday, the 26th of March is my first Chemo. Then 3 weeks of rest and the second Chemo. This will be 4 times in total.
After the Chemo 5 weeks of daily Radiation, this all together will "keep me off the streets" for a while.
My boss is a wonderful man and I can work when I want and stay at home when things get a bit difficult. I feel fortunate.
Yesterday (Monday) I went back to work which is a wonderful feeling.
Nearly hugged to death by my colleagues, returning was good.
Life isn't so bad though!
Got to say I am very touched by all the attention like e-mails, cards and telephonecalls. It makes life so much easier, thank you all.
Love hearing from you again.
xxx
03-04-2004
Dear Family and Friends,
Again "News from The North" , just about recovering from the first Chemo.
But first: thank you ever so much for the mails, cards, phonecalls and above all, your love!
What happened the past weeks.
As you know, I went back to work full-time, and this was great. Boss, colleagues and clients are wonderful and an important factor in the joy of working. Besides that you are in private life so very important. I realise how lucky I am.
In between jobs, still some visits to the Hospital for drainage's of the lymph fluid (Serome) but this finally came to an end.
The last time they drained 2 dl and my body used the space under my skin to rebuilt pockets so everything comes back in place.
The last fluid will disappear in a couple of weeks and with it the bumps. A matter of giving and taking. Body and I agreed this way.
On request of the Oncology Nurse, I went for a wig. I had to go to Groningen for it. Very reluctant because I do not want one.
But the Nurse said I should at least go to see how it looks like and to choose a model and colour. When I should change my mind after getting bald, they could make mine within 24 hours.
You could say I went with my hair straight up but have to admit that IKEA was more attractive because I could buy my Caviar with Dill again (I am an addict you know).
When I arrived at the wig shop where "leaving items out is the power of decorating" is, the owners were very surprised I was on my own. "Oh Ma'am, you are on your own!! No body to support you???????"
Ofcourse not, I do have my driver license you know!
They were ever so friendly and caring, though I asked for a less caring as it gave me the shivers!
Half an hour of trying, looking, colours and sizes and my reluctancy got bigger and bigger. Every time I watched a persiflage at myself in the mirror. The wig too far at my fore head, the hair even more to my nose and instead of the lousy head of hair I deal with for already 48 years, I all of a sudden had a huge head of hair!!!
Very carefully I explained why I did not want a wig and then they showed me a scarf. A long one which you can twist and wind around your head in a cheerful way. And yes, Ike was back in the mirror!!!!
The 27,50 Euro's I have to pay for the scarf fits me much better then the 250 Euro's extra for the wig. Settled..........
Bought one and a few days later I bought enough fashionable coloured cloth to make 7 new ones: one for every day.
Then the Chemo, the first one on the 26th of February.
Comfortable transported in a Taxi which I need for the Radiation as well so why no full use of the 80 Euro I have to pay before the insurance comes in.
Spoilt with tea, biscuits and a very lazy chair, they first gave me through the drip something against getting sick, very slowly as it has some temporary side effects: an itching feeling in that part of the back that stops having a decent name......................
Next for 20 minutes the Chemo with the nice rose-red colour, especially made for me!
Then home, walking the dog, a chat and drink with Mum, walking and the dog again and yes............ at 3 PM the misery started. I got sick, very sick and could not keep any food or drinks in my stomach.
The medications I took home and which I was allowed to take more then once a day, did not do their work well.
Well, this went on and on until Tuesday afternoon and I felt pretty wobbly.
But the weather was too nice to ignore and I went out for a walk on Tuesday afternoon. But after 1 km, when I arrived at the Pont, I had to sit down, seeing "stars". I allowed my body a nice rest.
Thursday out for foodshopping and Friday buying some flowers for the garden pots so sitting in the garden would be more colourful.
I eat normal food again (suddenly "hungered" for Hutspot, a Dutch treat of carrots, unions, meat and potatoes) and drink an awful lot to clean my body from the rubbish called Chemo.
Next Monday back to work and fortunately two lovely weeks ahead to regain strength. The 2nd Chemo is the 16th of April.
Oh, I still don't loose hair. I hope I will do as I am very much looking forward to the beautiful hair that will return after the treatment.
It wouldn't happen to me though, not having this side effect................
xxx
27-04-2004
Dear Family and Friends,
Time for a little chat and a big thank you for the lovely replies to my former news letter!!
In the meantime I had my second Chemo. It wasn't as bad as the first one due to some new medications with the lovely name Domperidon (it sounds like a Spanish Lord...). It made it all more pleasant.
The tiredness is worse but this was predicted. A very strange feeling to live a predictable life........
This second time I took a week off which caused a nice and relaxing feeling. I haven't been out, not even with the car, just a little holiday in my own village. Not bad though with the lovely weather we have!
It was good, I sniffed loads of fresh air.
External changes:
Yes, Ike is bald....................... finally!!!! I would I had known the good sides about it before!
2 weeks after the first Chemo, during my shower, I felt something strange around my fingers, washing my hair. I looked and yes, lots of hair wrapped around my fingers. I could just pull it out very easily, funny!
I had planned a day out with a friend, going to "Cirque du Soleil" in Amsterdam, so right after the shower, I made a scarf matching to what I was going to wear. It looked really nice.
Different make up, different look and off I went.
In Amsterdam we had to wait for a while and there was a very cold wind blowing. People stood there, hidden in their coats, mourning about the weather.
And there was I, my head wrapped in a nice warm scarf, a quick way to find out how useful they are!
On Sunday I made some more scarves, at least I tried but ofcourse the machine broke down. Fortunately I managed to make 5 and I am now looking fashionable every day.
Being bald is not bad at all, it saves me 20 minutes during the morning so you could say I now have a sleep in every day. It also saves lots of money by not needing to go to the hairdresser and don't have to clip my nails. For the female readers: I do not have to wax my legs either!!
I also use different colours of eye make-up, which I put on before the scarf. Looking in the mirror, I definitely look like Imhotep, the famous Pyramid architect and great medical doctor, especially the time he lived in. The difference is though, that I can't design a proper Pyramid and do not know much about illnesses in people, let alone mummification)
The two weeks before Chemo, I went back to work and it went very well apart from one morning when I did not wake up in time. Who cares........... not my boss!
The night before the second Chemo, I went out for dinner with colleagues and arrived well fed in the Hospital on Friday.
Live is not bad at all..........................
Today my second day at work, yesterday was rather quiet, not too much work and alone in the office so I had plenty of time to finish the work which was still there.
During an e-mail conversation with my boss, I was promised a temporary worker but I haven not seen one. Who knows what surprises will show up this week.
I left a bit earlier, after a physical dip.
Today I discussed working less hours and we agreed about me leaving around 3 PM. I am more tired then last week and looking after my little house in combination with an 8 hours day at work, is now a bit too much. Therefore I left at half past four today...... :-))
During the past week I have put some time in creating my own little web site. Just because I want to put my stories on "paper" in a different way, to show Cancer is not all misery.
If you would like to have a look, you can click http://
paraveterinary.tripod.com
. The sire is still under construction, lots has to be added, but this is a start.
Nothing will change much now for a while. I am working hard on being as fit as possible for the 3rd Chemo and when that one is done, there is only one left................ do you hear that??? One!!!!! A count down!
I hope you are all doing fine, stay healthy, mentally en physically. You are all in my thoughts.
xxx
17-05-2004
Dear Family and Friends,
Time flies, almost a month ago since you received my last news letter.
In the meantime we have been in touch in many ways: phonecalls, cards, e-mails, visits. All very much appreciated!! Also good media to know about how you are doing. You are all friends with the capital F.......
I start with the good news. Just two weeks to go before the very, very last Chemo. I can't believe how quickly it all went by.
The way I look at this last Chemo is a bit double. Yes, I do look forward to it and No, I don't.
The third Chemo on May 10, was a bad one. Even worse then no. 1. I have been very, very sick for many days. The trick is to drink as much as possible liquids to drain the poison from your body. But every bit of liquid irritated the whole vomiting system.
I felt worn out after a few days. The usually very effective medication wasn't of much help.
But, as always, I managed to get it under control and by last Friday I felt better again. Ate normal food and drank as much as possible (no.... no alcohol!!!).
The side effects are getting worse, very tired and very quickly emotional about the odd things: happy and not happy events.
Just not at all like Ike to cry that quickly.
Be assured it has nothing to do with the emotions about Cancer. I know, people keep telling me this and I gave it a proper thought, but it is just one of those side effects so do not feel sorry for me!!!
I am not yet back to work. My colleagues are great and very understandable but I also know, all being extremely busy, it is hard to deal with someone who is present but not able to work full speed and who you can't ask about urgent matters because she is getting forgetful and loosing concentration. This also happens now and I have to accept that in the first place.
So, too tired to be back. It is good to be surrounded by supportive people.
I also have to work hard to keep up my "marketvalue" as my face is now showing the side effects too: eye-bags and skin rash. Nearly 50 is much more understandable then before!
Though it is not all misery. I noticed little bits of hair are growing back and I can hardly wait to see what colour it will be.
As you know I love grey hair..........
And every one with straight hair, gets curly hair in return.
Gosh, what a lovely dream, me with beautiful grey curly hair..........
Well, one can always dream though!
Sunday I was with my mother, talking about antiques. We both love that. Before my marriage my whole flat was decorated with antiques but ex did not like it so slowly everything got sold or disappeared to Mum's attic. Also an hanging oil lamp.
Part of it I found in the garage and part of it was at the attic. I went for it and at the attic I found one of Mum's collectable dolls with a wig on. A real wig, bought by Mum appr. 30 years ago but still in a good condition. Colour: dark brown.
I gave it a good wash, repaired the elastic fastening, combed it and put it on my head.
Mum had to laugh and I reminded her to some of my cousins. True, I do look like one of them! We had lots of fun about it, it was not at all my colour and it changed my face completely!!! Mum says I look well with it, it suits me but you know Mum's eyes are getting worse rapidly so I did not really trust her opinion on this one.
I went to my neighbour who smiled and smiled and said I look nice with it!! "Dare to wear it when you go out with the dog tomorrow!!" she said.
Don't say that twice to me....................
So I went out and met many people. Some just looked, others talked to me but did not mention it (this says more then words......) but most of them were very kind about it.
Have to admit that I now changed it for my scarf again, that feels so much softer and more comfortable and it is me again.
Though the wig experience was good enough to repeat it!
Still with a smile, I say goodbye to you. No doubt we will speak to eachother soon again, in what ever way.
Take great care you all and smile a lot, it is of so much help!!
And you know, when you smile at people, they'll smile at you........
Love you all.
xxx
12-06-2004
Chemo, Computers and cars, friends and enemies at the same time.
Dear Friends,
What a surprise to be off line for two whole weeks and to find those lovely messages in my inbox. Thank you all, very welcome! I tried to reply to them but might have not managed yet with one or two. Trust me, I will as soon as possible.
It was good to hear from you all, especially because apart from the best wishes, you send lovely to read letters about what keeps you busy and I like that. So please......... go on!
Appr. 5 weeks ago since my last news letter. You know I had my final Chemo session, Wooheeee!! And as a Good Bye, I was sicker then with the previous one. I often have been thinking about all those people, especially the teenagers with bone cancer, who need 10 Chemo sessions. They are in Hospital during the sessions and well looked after because they get very, very sick. I know, we all have to go through it, hoping to survive but it is very difficult to deal with when more then 4 times. I admire all those people so much. They deserve all possible understanding, compassion and support and a place in Heaven for their courage.
To make a long story a short one, it was only till Thursday (Chemo was on Friday) that I felt slightly better and not vomiting anymore. I lost so much fluid that we have been talking about me going to hospital to avoid dehydration but the thought of being in any car, made me even more sick. Due to being sick, all sorts of scents are experienced as terrible, awful, horrible. Perfume, food, flowers etc. Like the taste of food and drinks. It took me a while to get used to all this again, somewhere in my brains there was this connection between smells, tastes and vomiting.
Right now I am doing very well, I eat, drink (no, no........ alcohol!) like in the old days which is splendid. The petrol to keep me running. I do loose a lot of weight during the Chemo week, sometimes up to 4 kilos and are very disappointed when it all returns including 1 or 2 extra kilos where I dont ask for!!! Very annoying. The blood values went down again, especially the HB and I feel extremely tired. I hope for Iron tablets as radiation will bring it down even more.
The day before Chemo, when being so smart to pay my bills, my PC broke down. No connection to the Internet and/or no connection from PC to PC by telephone. Something to do with the IP. A "Digital Identity Crisis." Last Friday, one week later, I took it to the repair shop, luckily in the village, who had to clean the computer completely to put Windows back on again. It worked well and last Thursday evening I got it back, including Telebanking. But....... still not possible to pay the bills, not the right settings. Like being on line by cable, no connection here either, wrong settings.
But on Friday both Help Desks talked me through various programs and since then I am back on line again. Thank you nice people from the Help Desks!
It was a miserable week for my car as well. It returned from the MOT and service during the previous Chemo but it now showed some other problems. It is back again, not leaking oil anymore but I am not looking forward to all the bills! So, car, PC and owner are back on track.
Next Monday I have to go the Hospital in Leeuwarden for a pre-radiation talk and some check ups. Then I will also know when the Radiation starts. 5 weeks, daily but not during the weekend. This will keep me off the streets Tuesday a meeting with the Gynecologist/Oncologist for the Vulva Skin Cancer (VIN3) I developed in November/December 2002. I should be looked after in Groningen for it (it is very, very rare) but Drachten says they can do it too so again another "bartender" in my favourite Pub to see. As many of you know already (New Letters 1 and 2) VIN3 (full Skin Cancer) needs to be treated by Laser or Surgery to avoid Vulva Cancer but to the huge surprise of all doctors, my body solved the problem on its own and no signs there right now. Just because I want to live a healthy life, not allowing the skin cancer to develop into worse (I think so). A possitive outlook can do so much). But still, they need to keep "an eye" on it. Wednesday I am seeing the Surgeon for a check up of the operated area. To me it all looks very good although my left arm is a bit sore, but this is caused by the Chemo, so I am told. It might get worse during radiation and I am free to visit the Physiotherapist for it. We'll see. So, a full agenda here!
Last week I went to Leeuwarden for my prothese, the right name for it is "Epithese", an outside prothese.The one I got and wanted is a sticky prothese which sticks to the skin to avoid extra weight on your shoulder where the new lymph nodes grow.The best way to describe this Epithese is like a Chicken Filet with adhesive pearls. For those who want more info, please click
http://www.amoena.co.uk
It feels like I received a wonderful and very expensive present and I am very happy with it.
My hair grows back. Very, very slowly and as far as I can see, it is a mixture of grey and dark blond (I hoped for beautiful grey....). It is still too short to tell if I will have curly hair in return but I will let you know as soon as possible. One comfortable thought here, it cant be worse then my old hair!!!
Time to return to my daily duties my dear friends. Since Friday I am a Foster Mum of an adorable baby Starling with Fluffy feathers on top of his head. Mum found it and I adopted it (its the paraveterinary blood). The first 24 hours, the Starling behaved very stubborn and is therefor called "Stub". He yelled his head off when I tried to hold him and kept his little mouth shut as soon as I wanted to feed him, fighting to get loose but he cant fly. Since Friday he accepted me to be his Mum and asks for food as soon as he sees me, his little yellow beak wide open, following me every where. He loves to sit on my shoulder, cuddling up, sleeping. He needs feeding at least once an hour. He feels very comfortable staying with me but I hope he wants to join his friends outdoors as soon as he can fly and look after himself. I dont mind Hedgesparrow Fluffy staying with us, but do not want another bird to look after for ever!
Take great care you all, enjoy life, stay healthy, I care for you an awful lot!
Love, xxx
09-07-2004
Latest News on Cancer Test Results..........
This morning I went to the Hospital for the results of the VIN tests and........... wonderful news............ NED (No Evidence of Disease).
Gosh........ I am so very, very happy! I can't believe my luck!!! Dance with me !!!!
Ike, xxx
13-08-2004
Dear Family and Friends,
It has been a while ago since you received my last newsletter. Much happened in the mean time and life is getting back to normal quickly! This is a good thing.
You kept in touch, wrote me e-mails, phoned me, sent me cards and kept me up dated about your life which was of such a help to keep life as normal as possible during the therapies, a sound base from were I worked on a better and healthy future. A big THANK YOU is needed here. Without all your help the fight would have been much tougher!! Please keep that in mind........... Well, what happened since the last newsletter.
Radio Therapy:
23 times over a little more then 5 weeks. A daily trip by taxi to the Centre in Leeuwarden. I was told it was going to be a burden because it was daily. But fortunately it was not. It was an item on my agenda, nothing more. The therapists at the Centre were great. Very caring, clear in their explanations and most of them with a very good sense of humour. My Radiologist/Oncologist is a young woman, a good listener, practical and very caring. I saw here every other week but when necessary, she is always there for us "patients". A wonderful system which really works for so many people. Being at the Centre, seeing so many other patients, some too young to have Cancer and some too old to suffer so much, I realised how fortunate I am.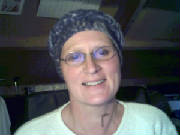 My Picasso-like Radiation stripe ....... and my matching hat!
I received three different types of radiation with my shoulder joint and lungs protected with huge and heavy blocks. My back, chest and armpit kept well until a week before the last therapy. Then the skin got damaged, the arm pit badly and it got very sore. The last day I went to see the Oncologist and a nurse, they wrapped me up in bandages and two different cremes. The creme for the armpit was an anti inflammation one as I do not have nodes left and an infection could do a lot of harm. But it went very well although the pain and the itching. In no time there was new skin growing in the armpit. All what is left from the damage now is a sore spot on my chest but this is healing too.
The first 3 weeks of the Therapy I have been "morning sick" (no, I am not pregnant!!! That isn't possible anymore, the Chemo has put that to an end........!!!) but later on the day, I felt better again. I did not go to work, getting more and more tired and tried to behave like an old lady. With less energy left, that wasn't too difficult, must be my age as well I think. In the middle of the radiotherapy I turned 49 but did not celebrate my birthday, I will do this next year. But to those who remembered: thank you for your attention! The second week after the last therapy, I felt I gained in energy. I woke up earlier, did not sleep during the afternoon anymore and had better sleeps during the night. Not sleeping very well has been a major problem but thankfully it improved tremendously. Keeping up with housekeeping went much better and I was even singing and humming most of the day which is a very good sign!
VIN 3:
I also had check up's on the Vulva Skin Cancer. Not in Groningen but in Drachten as the last time it was VIN1. The Gynaecologist did 2 Biopsies (ouch, the local anaesthetics did not work……. and two weeks later I was told the happy news that there wasn't any sign of VIN!! Can you believe it?? Gosh, I could dance!
A "new car":
2 Weeks ago I received a phone call from the Volvo Garage who I asked a year ago, to look for a Volvo V40 as my 12 year old 480ES was going to cost too much to maintain it. Now they had a suitable 8 year old Black Metallic V40 with many extra's. Mum and I went to see the car as for her it is important to be able to get in- and out which was a problem with the 480ES. As soon as we drove off in the V40 I knew this was going to be my car. Financially it does not cost me much more per month but it runs like a Rolls Royce. It felt like I received a wonderful present and for me it is part of my new future. I collected the car August 7 and enjoy driving it so much! Attached a photo so you can have a peek around the corner.
Work:
Last Monday, the 9th, I went back to work, part time, after a long phone call with my boss a week earlier, in which he told me I was going to do different work then used to. I am now going to look after the incoming and outgoing procedures of the boats plus the information and / or leaflets for these boats. Also keeping the companies web site updated is part of my job. After his holiday I will hear more about it. Well, this was another challenge and I will not say no to it! Some of the work I did before and enjoyed it so much more then typing letters. I do hope I still will make the phone calls for our Sales Mangers!! We'll see.
So back to work but unfortunately I found this very, very difficult. Not my new work, I do look forward to that and have many ideas I want to work with. But I do not have a desk and computer anymore. So many things changed and the lady who was going to do my job temporarily, now got another job with the company but at my old desk with her new computer. My computer went to the Sales Managers who's Lap top just gave up a few days before. Now I got shovelled around from desk to desk and from PC to PC without any of them working well with the programs I need. This needed a lot of energy and common sense. After three mornings I felt frustrated, lost, out of touch and out of control. Colleagues were great and very understanding but could not do much about it.
I did not return to work on Thursday after a night without sleep because it all went through my head. The best way to explain my feelings is this: The past 6 months I worked very hard to fight the Cancer, to deal with the treatments, to be happy, to have a positive outlook on the future and to keep life as normal as possible to be able not to walk on lose sand. All very successful. Though coming back at work and not having my own workspace anymore , not the right equipment for the new work, caused many negative emotions which I can't handle yet as I found out, unexpectedly Though this my bosses and colleagues understand as well and nobody blames me for giving it an other try again next week. In the meantime they look for a permanent solution.
Step by step, the Oncologist told me. That is for many things.......................... not just my health!
I will be having Cancer check ups regularly, every two months either with the Surgeon or the Oncologist.
Next week Wednesday I will have a final talk at the Chemo department about emotions and how to get on with life. We all agree I do not need that but it is part of the "game" and I promised to bake them a Chocolate Cake so we are going to have a tasty half-hour!
Looking back, the past 6 months went very, very quick. As said, I worked hard and have very good feelings about it. Life is going to be wonderful (it always has been, but even more now). I feel like I can conquer the world after winning from the Cancer. I know, the next 10 years I will be looked after and I am well aware I have a higher risk of developing any Cancer again. But I also know I have won this fight which I could not have done without my strong personal believe in my God and the overwhelming and honest support of all of you!!
Sometimes I am asked: "Will you never have Cancer again??" My answer: "I will tell you after I died of natural course".
Take nothing in life for granted, never. Health is such a precious thing, don't fool around with it!!! It is your base for living! And living is what I am going to do. I am alive!!!!!!!!!!! What more could I wish for??????
Big hug from a very happy and ever so thankful Ike.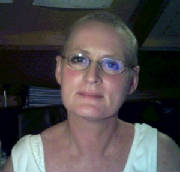 My new hair.......
News letter no. 14: 17-11-2004
Dear Family and Friends,
Although I promised you (long ago), regular news letters, it has been a while ago since you received the last one, no. 13.. Now life is getting back to normal, I seem to have less and less time to maintain regular correspondence. I don't mean to and I don't like it, but it happens (uh… happened!) Of course, with many of you I kept in touch by private e-mails or phone calls, which is nice and welcome. Still it is time for an update from the Friesland Front to start with a question I often hear……………"How are you really????"
Fine, I am doing fine, honestly. No fall back's or dip's, feeling low's etc. Yes, still tired at times with still some side effects from the ChemoTherapy but these are different then mental problems. All my doctor's warned me for mental fall back's as soon as life would go back to normal (is life ever normal?? Forgot how that is…..). The therapy months were a tight schedule and a mental fight to keep my life as normal as possible to avoid falling in a black hole afterwards. This took an awful lot of energy and although it might sound strange, I used this energy with love and pleasure and am now extremely thankful I was able to do it this way. I could not have done it without the help of all these wonderful people around me, they too worked hard to avoid changes in the relationships. They have always been optimistic, behaved like usual, made fun and in general, had the same sense of humour mixed with the tiny little bit of "sarcasm" which I added to the way I handled the Cancer.
So, private life is wonderful, even better then before because I value it so much more then before the Cancer. I am more happy with my little house, my view, Autumn (always been my most favourite season), the love I meet where ever I go, my animals (the Zoo is extended with hens and a cockerel) and so much more! I will never take things for granted anymore. My web site did bring me more………………… the creation of more web sites! 5 years ago I could only write a letter in WP 5,1, not interested either in how computers and or their programs work. Now I find a great joy in working in Power Point for presentations (also part of my job), HTML programs and making web sites although still with the help from servers like Tripod. I even subscribed for a www-site, so please note that my new address is : www.paraveterinary.com. I added more to the "Daily Life" site, added more links plus uploaded pictures to my web album. The site will be great one day!! I also work on sites of others. The links will be in my e-mails and at the site.
I look like Holland's Glory: very healthy, far from skinny and with a wonderful quality of hair. I can't tell you how happy I am with my new hair. It is still short. I went to see the hairdresser twice but just to shape the edges, the rest is free to grow. Everybody I meet, likes this short hair and tells me it suits me so well, 'don't grow it much longer'. I will see, I can always have it cut back (or pruned….), I now know how it looks like in all stages. Being tired at times (but this is also improving) is not something you can fight. It happens and you have to accept it. That does not mean I am giving in straight away though! When it happens at work, I just carry on, knowing it will be 5.30 PM soon. During a meeting with the doctor of the 'Arbo-dienst' (some sort of Insurance Company who reintegrates sick employees) we decided I was going to work for 70% until December and from there on 100%. But the 70% turned out to be 85%, due to some causes (internal reorganisations). My job content, changed almost every 14 days and since a few weeks I am an Interim (really???) Receptionist, with still some of my normal work. At first it felt strange, especially because I agreed doing the work occasionally when they needed a spare receptionist but all of a sudden I was one full time. I felt like being back at the age of 19 when I started my first job as a receptionist. But due to the pre-natal depression of a colleague who will not return anymore, and the leave of a colleague who find herself a new job elsewhere, I am now back in a job I always liked….. though 25 years ago! I learned so many other skills in the meantime. Never mind, it is a nice job with a nice company and with great colleagues so I am not complaining. Back in uniform as well, my oldies from being the "boss" of the Product Promotion Team. Because the company is open 7 days a week, we work shifts which means that I am often working with weekends with two days off during the week for compensation, and every other week one day extra during the week. Not bad uh???
Side effect, still bothering me at times but this is normal and known to last for a year, sometimes even longer. Knowing my capability to recover fast, I expect my side effects to last for 6 months………. They are swollen joints of my hands (painful too) and painful muscles, every where in my body. I know take Vitamin supplements and liver cod oil, which is of help, good. Also a dislocation of a finger joint was part of the side effects, I did not do anything strange to cause it and put it back in place myself, what else could I do on an early Sunday morning? Some weeks after, still a swollen finger, I went to see the Orthopaedist for the upcoming hip replacement and he also took X-rays from the finger but this looked fine. The right (ehhh…………wrong) hip looked worse then before and the replacement will be in January. I don't take part in the so called Joint Care Project (6 people operated on the same day, Physio together and being 'released' together). I will be a normal patient who can take her time to recover. And if I think I am still not fit enough, they will postpone the operation to February or March or what ever. But the hip is very painful so I am ever so much looking forward to the operation……………. 4 weeks of rest, almost a holiday! I let you know the date as soon as possible.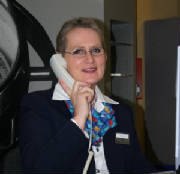 At the reception
In the meantime I had of course several check ups with the Oncologists and Surgeons. They are all surprised about my quick recovery and the movability of my left arm. So happy faces all around me. The next check up will be the 22nd of December, then they will book the scan for me to see if the inside is doing as well as the outside. In January of February the will take X-rays again.
I also went to the Academic Hospital in Groningen for a DNA research. Due to so many women with Breast Cancer in our family, it is very possible me having one or two Cancer Genes. One is just Breast Cancer and the other one is Breast and Ovary cancer. In April or May 2005 I will receive the results. Then it will be time to make up my mind. When it is just breast cancer, I will have the other breast removed as well with at the same time, a reconstruction for both. When I have gene no. 2, I will also have the ovary removed. If I can avoid cancer: Yes Please!!!!!!!!!!!!!!
As you can see, life is definitely back to normal, with all the hassle and bassle but even more with all the good things life has to offer. I do not promise you News Letters on short term but I will keep in touch when ever time. And please check my web site regularly.
Will you please take care you all??? Speak to you soon, lots of love,
Ike, xxx
08-01-2005
Dear Family and Friends,
So many of you deserve a personal phone call instead of this news letter!!!
I received Heart warming Christmas Cards and e-mails, thank you so much..........
I would have loved to send you a personal message. But time flies, unbelievable. Determined to speak to you before the hip operation but somehow I seem not to manage to do so!
Long busy days at the office (officially 75%????? What about 100%???????? Or even more??????), coming home totally exhausted and falling asleep as soon as my but touches the settee. This is a reflection of the past few weeks. Unfortunately it is in the way of a private life, though I give in to this sleeping. My body seems to need it.
Since a few weeks I am on EPREX and iron tablets. The meaning of all this is that I become very energetic but instead I sleep hours and hours and hours. In my chair, at the settee, in my bed (fortunately!!). Also at work I found it difficult to keep my eyes open. Due to the Chemo my memory isn't that good but right now it is a disaster.
But ok, next Tuesday is the big day. I am going on "holiday" ........full services!!!
A comfortable, fully automatic bed, food and drinks served, books to read and music to listen to, a good sense of humour.
Besides that I am ever so happy to get rid of the bad hip (the operation is scheduled for Wednesday the 12th. 8 AM), I am also very much looking forward to do nothing else then recovering and having a rest. A total rest, no new records to brake. Although, leaving the Hospital with one crutch instead of two, must be possible.
They give me all the time to recover, gosh, I will be spoilt!!!!!!
I have been off from work for some days, so many things have to be done. Enough food for Mum, me and the animals to keep us going for 6 weeks (I am not allowed to drive a car for that long), a walking service for dog Invandra who will stay, like bird Fluffy, with Mum. My little friend Lena will look after the cats who stay comfortably at home. And neighbour Wietze looks after the chicken. One hen is laying eggs so fresh eggs to look forward to.
Then the house needs to be ready: the high toilet seat, a bow for the blanket (sleeping on my back for 6 weeks), everything I often need at "grip" height as I am not allowed to bend over for 6 weeks, washing, ironing, cleaning, etc. etc. It feels like I have days short.
So forgive me I wasn't around often or not at all.
But, within two weeks after the Op, I will be able to sit long enough to read the e-mails at my Lap Top.
Speak to you soon again, love,
Ike, xxx
04-04-2005
Dear Family and friends,
I am back again….. after a long time! And so much happened in the meantime.The last letter was from just before the operation so let's start with that.
The Operation:
Wednesday: It went all very well; I was the very first patient for that day. The Op. lasted one and a half hour and again I lost quite a lot of blood with the usual consequences for my blood pressure. I was back at the ward around 12 but it was not until 5 PM that my blood pressure was under control. Though I did fine and had a very good night sleep. The next morning the Physiotherapist arrived with the Zimmer frame for the very first walk, just a few metres he said. But I managed the long corridor and back, not only to the surprise of the Therapist but also to my own; I was so much more "movable" then after the first hip replacement!! On Friday I walked with my two crutches and crossed half the Hospital, drank a cup of tea at the Oncology Department and had a careful walk outdoors, happy with the smell of a frosty but sunny day. Late afternoon the Therapist and the Staff Nurse told me I was allowed to go home! My partner could help me with the elastic stocking. But there is no partner and it was too late to contact the Aid Service so I stayed put and enjoyed being spoilt. Because again, I was well looked after and had lots of freedom to do what I thought was good for me.
I promised the Physio to go home on one crutch. He smiled and said: "Leaving the Hospital on one is OK but then you walk with two again! And before you go home on Monday, we practice walking the stairs!" Yes, sure………. So on Saturday I walked the stairs on my own (have a good memory!) and on Sunday I walked with one crutch and did the stairs even more times as well as my walks outdoors. On Monday I got released, happy to go home.
From then on things went so well, walked without any crutch a week later. But……… I was so extremely tired! For once I had to admit that my body said STOP, don't overdo things, rest, rest and rest even more. I had good hopes to be back at work after 4 weeks but decided to listen to my warning system and told everybody I was going to live like a Hermit for at least 6 weeks. No phone calls, no Internet, no visitors and not going anywhere. Living in my village, this is not too difficult! I slept a lot, also during the afternoon, did not do any other thing then the usual housekeeping. And I enjoyed it, very much. Finally I came to rest and very slowly life got back to normal. After 6 weeks I went back for as well the Cancer- as my Hip check up. Driving my own car………….. Another week off for food shopping, housekeeping and getting used to going back to a normal rhythm to be prepared for a working life. My two bosses and I decided that I should work one week for 50% and then back to 100%.
Work:
Many things changed during my absence. Colleagues left, a new Interim Manager arrived and a new colleague at the reception desk. After one week, I had a meeting with the Doctor of the Insurance Company. He is such an amiable man and was a bit worried about my enormous amount of energy. He wanted me to work 50% for two more weeks, then 75% for again two weeks and then back to 100%. But I did not agree and after a while we compromised. 50% next week, 75% the week after and then back to normal. So I did although I didn't fully agree.
I now have the management over the Reception area and the Gift Shop and enjoy the work that comes with it. I am busy and noticed myself singing and whistling whilst working.
I am also back in to my uniform.. why is this so nice? Well, during the Chemo (and even after….) I tried to eat and live as Healthy as possible and gained weight! Far too much! And when back to work, I could stand straight up in my uniform but could not sit in it anymore. I lost 7 kilo's by now and hope for much more, love to go back to normal.
Private Life:
This is also going back to normal. I am catching up with friendships as I have neglected some of you terribly. I am out and about again, meeting new people, seeing old friends. At home I finally made a start with my garden and can work for hours and hours without being really tired. Though do not ask after my muscles……….. especially the legs were not used to support 200 kilo's of pebbles for my front garden! But as always, I heal quickly and get stronger and stronger.
My life is so much more beautiful, greener, more sunshine, more laughter and I feel more at ease. I smile even more then I did before. I am truly happy about all that happened to me as it made my heart grow so I am able to enjoy life even more to the full. Life is great, SUPER!!
On April the 21st I am going to Yorkshire for a few days. Foster Brother David is taking me (I can kiss him for that!), it feels like going home again and you believe me, I will enjoy every second of my trip!! No matter if it is raining, with me the sun is always shining!
Cancer:
The check ups showed I am healthy, which means I am without Cancer for one whole year. Isn't that amazing? It could have been so different and here I am: alive and kicking and so thankful.
But the best news ever is that I received the results of the DNA test for the Cancer Gene BRCA1 and/or BRCA2. Oh, I couldn't believe my eyes when I opened the letter form the hospital in Groningen. I do not have any of those two Cancer Genes!!!!!!!!!!!!!!!!!!
Unbelievable with so much Breast Cancer in my family. My Breast Cancer was just "bad luck", just a coincidence, nothing more and nothing less. Such a relief, no second Mastectomy, less worries for getting it again. What a freedom, what happiness. I cried and cried, read the letter again and again and even now, a few weeks later, it is still a miracle. It feels like I am born again. Just can't put it into words really.
I hope this will be the last News Letter for a very long time. I hope I can be in touch with you individual again. Though keep visiting my web site as I will post on there regularly.
Last but not least: I thank God from the bottom of my Heart for all of you. As every one of you, in your own way, helped me through the "busy" times. Helped me smile and helped me laugh and also allowed me to feel tired. You always looked forward, were always optimistic, knowing that fitted me best. Yes, I am an optimist, I live for my future and I am strong, determined but I am above all very human and sometimes still that little girl. And without you, I couldn't have been that strong!! So the biggest hug in the world and all my love for my wonderful Family and Friends!
Ike xxx